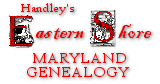 I'm researching these
SURNAMES
on the Eastern Shore of Maryland
[ MEZICK ][ BLOYCE ][ CANNON ][ COVINGTON ][ DASHIELL ][ DENSON ][ DOUGHERTY ]
[ DICKERSON ][ ELLIS ][ EVANS ][ HIGGINS ][ LARRAMORE ][ LONDON ][ MITCHELL ][ RIGGIN ]
[ RITCHIE ][ ROBERTSON ][ STREET ][ WAINWRIGHT ][ WALLER ][ WHITE ]

I've listed my earliest known link to each surname, and am searching for that person's parents and further back. You can contact me at srh@tyaskin.com about any of these names. Please do note that much of the information given here has been obtained from third parties, and has not been proven or substantiated. Some of it is pure conjecture. Researchers should not consider these lines as proven unless they obtain the appropriate source documentation for themselves. - Shari Handley P>

MEZICK / MESSICK :
I'm a descendant of Julian MEZICK, who was transported by John TILNEY to Accomack Co., VA in 1664/5. In 1674, he moved up to Nanticoke Hundred in Maryland's Somerset Co. He married Sarah COVINGTON, daughter of prominent Quaker Nehemiah COVINGTON, in April 1674. In 1681, he acquired 100 acres in Nanticoke Hundred, which he called Nantes. It is not known where Julian came from originally, but it's theorized that he was a Huguenot, based on his choice to name his land for the Edict of Nantes. Issued in 1598 and revoked in 1685, the Edict granted tolerance to the Huguenots in France. Julian died in 1718, and left land on the south side of the Nanticoke River and on Wetipquin Creek.
Julian MEZICK and Sarah COVINGTON had issue:
Nehemiah MEZICK

, b ca 1676, d Aug 1751, m Sarah HOPKINS

John MEZICK

, b ca 1678, d ca 1746, m Mary COLLIER

Richard MEZICK

, b ca 1680, d before 1715

NOTE! The information that Richard was a child of Julian and Sarah came from the IGI, but I do not have *any* other substantiation of this.

Jacob MEZICK

, b ca 1682, d Feb 1761, m1 Rachel COVINGTON, m2 Elizabeth WALLER

Joshua MEZICK

, b ca 1684, d ca 1718

Sarah COVINGTON MEZICK died sometime after Joshua's birth, and Julian re-married, to Priscilla NICHOLSON. They had issue:

Joseph MEZICK

, b after 6 Jan 1698, d ca 1761, m Grace ____

Isaac MEZICK

, b after 6 Jan 1698, d Aug 1779, m Sarah ____

Benjamin MEZICK

, b after 6 Jan 1698, d 24 Apr 1773, m1 ____ MACOMB, m2 Betsy ____

Julian MEZICK

, b after 6 Jan 1698, d ca 1742

Sarah MEZICK

, m Joseph DASHIELL

Mary MEZICK
CLICK HERE TO SEE MY ENTIRE MEZICK LINE.
Post your own Mezick or Messick query on the RootsWeb MEZICK QUERY BOARD.


BLOYCE :
Thomas BLOYCE proved his right to 50 acres of land for himself and each member of his family on 24 Sep 1662 in Somerset County, Maryland, later adding 150 acres he called Bloyce's Hope and 300 acres Success in 1663. He had settled there, in Manokin section, with his wife, Frances ____, and their children:
Judith BLOYCE

, b cir 1650, m Stephen CANNON in 1671.

Frances BLOYCE

, b cir 1650, m William WRIGHT in 1669.


CANNON :
In his privately printed book, Wainwright and Related Families, Emerson B. Roberts gave the following information about Edward CANNON: b cir 1600 in Yorkshire, England, Edward married Ann ____ about 1635. Edward and his family came to Virginia in 1646, being transported by Edward HALL of Lower Norfolk County. Two of their children ended up crossing the Bay to Somerset County, Maryland when they were grown. Their children were:
Edward CANNON

, b cir 1635 in Yorkshire, m Sarah DAWLEY. They lived in the area of Lower Norfolk Co., VA that later became Princess Anne County, VA.

Thomas CANNON

, b cir 1637 in Yorkshire, m Elizabeth CORNICK. They also stayed in Lower Norforlk County, VA.

Ann CANNON

, b 1639 in Yorkshire, m James DASHIELL, Sr. about 1659 in Northumberland County, Virginia and subsequently crossed the Bay to Somerset County, MD in 1663. Ann d between 1697 and 1705 at Wetipquin in Somerset County. James and Ann DASHIELL are the progenitors of the illustrious Dashiell family in America.

Stephen CANNON

, b cir 1640, m Judith BLOYCE in 1671 in Somerset County, Maryland, and d between 1699 and 1709. Interesting circumstances surround the removal of Stephen CANNON to Maryland from Virginia. It seems that he was a servant to a John PATE of Gloucester County, VA. He ran away and changed his name to

Thomas DAVIS

. In early Somerset County records, he is known as "Thomas Davis, Carpenter". It was as Thomas Davis that he married Judith BLOYCE, and his children were surnamed DAVISuntil 1674, when he publicly declared his true name.


COVINGTON :
Nehemiah COVINGTON was born ca 1628, perhaps in Covington, Huntingdonshire, England. A Nehemiah Covington is listed under the patent of Nicholas WADDILOW and Stephen HARSEY in 1647 and also under the patent of Nicholas WADDILOW in 1649. Could there have been two Nehemiah Covingtons who came to this area within two years of each other? Could he have left and came back? Perhaps it was just a case of two people claiming his headright. At any rate, Nehemiah signed the Oath to the Commonwealth 25 Mar 1651 in Northampton Co., VA. In 1662 with his wife and children, he moved up to Somerset Co., MD, where he acquired a patent to 300 acres of land on the north side of Monie Creek in 1663/4. He called this land Covington's Vinyard . Nehemiah would have been about 53 when he died in 1680/1
Nehemiah COVINGTON and Mary ____ had issue:
Jeane (Jane) COVINGTON

, b ca 1652, d Feb 1677/8, m David WILLIAMS (They and their 4 young children were all murdered by Nanticoke Indians on their plantation on the Wicomico River)

John COVINGTON

, b ca 1653, m Mary ____, d 1693

Katherine COVINGTON

, b ca 1654, d Aug 1681, m Edward WRIGHT

Sarah COVINGTON

, b 1654, d ca 1685, m Julian MEZICK

Margaret COVINGTON

, b ca 1655, m Richard ELLINGSWORTH

Nehemiah COVINGTON

, b ca 1657, d 1713, m Rebecca Denwood

Mary died ca 1667 and was buried in Great Monie Hundred. Nehemiah married again in Jul 1667, to Anne INGRAM. Nehemiah and Anne had issue:

Elizabeth COVINGTON

, b 10 Sep 1668

Thomas COVINGTON

, b 10 Jun 1670, d 1709, m Rachel INGRAM

Anne COVINGTON

, b 07 Oct 1672

Jeremiah COVINGTON

, b 16 Dec 1675, d 31 Jan 1676


DASHIELL :
I've think I've FINALLY found a possible link (though still unproven) back from my Sarah DASHIELL, who was born in 1728 and married William ROBERTSON in 1753. Her parents were reportedly William and Isabella DASHIELL. The DASHIELL family has been thoroughly researched by many. A 3-volume work published in 1932 by Benjamin DASHIELL called Dashiell Family Records gives quite a complete look at the Dashiells in America, and follows the line back to Lyons, France as far as the 11th century.
The line begins in America with James DASHIELL and Ann CANNON (see surname CANNON above), who, though born in Edinburgh, Scotland, transported from Yorkshire, England in 1653 to Northumberland County, Virginia. The family moved up to Somerset County, Maryland in 1663. My line may go from James and Ann through their son George DASHIELL, who married Priscilla MITCHELL. Among George and Priscilla's children was the William DASHIELL mentioned above.


DENSON :
James DENSON was born ca 1785. He m Polly ____ ca 1805 and had 8 children:
Sarah Anne DENSON

, b 1809 (per census info), m Francis MEZICK 1 Jan 1834 in Somerset Co., d 1883. May have been known as "Ann", because an "Ann MEZICK" is buried next to Francis, but birth year is given as 1812.

Mary DENSON

, b ca 1811, m ____ ROBERTSON

Betsey DENSON

, b ca 1813, m John EVERSMAN

Druscilla DENSON

, b ca 1815, m Samuel MEZICK 15 Dec 1835

Jesse DENSON

, b 1817, m Louisa ____

Sarah "Sally" H. DENSON

, b 1820

Mahala DENSON

, b 1822

Jane (Allice J.) DENSON

, b 1824
James DENSON died about 1849. In his will, proven 25 Oct 1849, he named daughter Sally H. Denson as executrix, and mentioned all his children. No wife is mentioned, so Polly must have previously died. A James DENSON was listed as serving with the Somerset County 23rd Regiment under Capt. Josiah HEATH in the War of 1812.
---
I have a second, earlier DENSON link. Elizabeth DENSON was born about 1625 in Bodness, Cheshire, England, and Christened 14 Apr 1625 at St. Martin-in-the-Fields Church, Westminster. On 29 Oct 1658, she became bonded for work in the foreign plantations: "Elizabeth Denson of Bodne [sic], Cheshire, to Samuel Jenkins of Shrewsbury, Salop, merchant, 3 years, Barbados". It was in Barbados that she met and married Edward DICKERSON in 1654. See DICKERSON below. She came with Edward to the Annemessex area of what became Somerset County, Maryland by Nov 1662.
Elizabeth was a descendant of William DENSON, born circa 1570 in Westminster, London, England. His son was John DENSON. John and wife Elizabeth ____ lived in the Parish of St. Martin-in-the-Fields, and were the parents of the Elizabeth Denson described above. The Denson family had roots in Cheshire, England. Since William Denson, and John Denson after him, lived in the Royal Parish of St. Martin-in-the-Fields, Westminster, London, they were most likely in the employ of the Royal Family, as were most families in this parish.


DICKERSON :
Edward DICKERSON was Christened 05 Dec 1627 at St. James, Clerkenwell Parish, London, England. A carpenter and planter, he was a descendant of Richard DICKINSON of London, master skinner, and Cicily (Bland) DICKINSON. The spelling of the name as DICKERSON became popular in America, but the family was known as DICKINSON in England.
After his father's death, Edward emigrated with his brothers George and John, and possibly Thomas as well, to Barbados and settled in Christ Church Parish. By Nov 1662, Edward was in Annemessex section, Somerset County, Maryland. He was active in court affairs in Somerset County.
In 1667, he patented 300 acres he called Contention at the head of the Annemessex River. In 1673, he purchased part of Irish Grove on Morumsco Creek from Daniel QUILLANE. Edward also owned the tracts Dickersons Hope and Goose Marsh, both of which passed to his son Somerset.
In 1654, in London, he married Elizabeth BALD, who died around 1660. They had issue:
Somerset DICKERSON

, b cir 1656 London, m Hannah ___ cir 1680, d 1727 in Somerset County, Maryland

Edmund DICKERSON

, b 1658 London, m ___ ___ cir 1695, d 1740 Somerset County

After Elizabeth BALD's death, Edward was in Barbados, where he met and married Elizabeth DENSON (see Denson above). They had 5 children together once they got to Somerset County:

John DICKERSON

, b 09 Nov 1662

Peter DICKERSON

, b 21 Jun 1664, m Sarah RIGGIN cir 1696, d 1733 in Somerset County

Edward DICKERSON

, b 23 Jul 1666

Elizabeth DICKERSON

, b 11 Jul 1670

Mary DICKERSON

, b 13 Mar 1673


DOUGHERTY :
John DOUGHERTY was born around 1740. I have not yet been able to find out whether he was born in Somerset County or elsewhere. He married Leah DICKERSON before 1765 in Somerset. This Marriage brought him part of her paternal land in Force Putt west of the Wicomico River, east of Broad Creek, and Dickersons Fancy in Nanticoke Hundred. In his will 14 Nov 1795, John's wife is unnamed, but he names his children:
Leah DOUGHERTY

, b between 1770 - 1780 (based on her kids' birth dates), m 1st Elihu MEZICK (Jr.) 13 May 1793, m 2nd Covington MEZICK (Elihu's cousin) 09 Jan 1810 in Somerset Co. Leah died after 1840.

Robert DOUGHERTY

Teague DOUGHERTY

John DOUGHERTY

Hetty DOUGHERTY

Betty DOUGHERTY
John DOUGHERTY may have also been the father of Dickerson DOUGHTY (Dickason Dougherty), who m. Esther LORD in Somerset County 01 Sep 1785. Leah Dougherty named a son "Dickerson D." Mezick. Maybe she named him after her brother. John DOUGHERTY's will mentions "grandson Dickerson Doughty MEZICK".


ELLIS :
Elijah ELLIS was born ca 1780 and died 1830. He m Sarah "Sallie" ____ (was she a HITCH?) ca 1800. His will, probated 07 Sep 1830, mentions children:
Matilda ELLIS

, b ca 1800, m William McNEAL

William ELLIS

, b ca 1802

Mary ELLIS

, b ca 1803, m ____ DAVIS

Sarah "Sallie" ELLIS

, b 07 Sep 1804 (Stepney Parish), m Henry WHITE 19 Jun 1828, d 25 Jul 1865

Esther Hitch ELLIS

, b 25 Jan 1808 (Stepney Parish), m Samuel WHITE


EVANS :
My great-great-great grandmother was Priscilla Ann Matilda June EVANS, born 11 Dec 1823, who married Washington H. ROBERTSON 12 Jun 1844.
I have an old autograph book that she gave to my great grandmother, Carrie ROBERTSON, in the mid-1880s, that has been passed down, mother to daughter, to me. On the first page of the book, Priscilla has written an inscription in beautiful and ornate old-time ink handwriting, "Carrie R. Robertson, Her book, presented to her by her grand-mother, P.A.M.J.R." Priscilla died in 1895. She had 9 children between 1845 and around 1863. Who were her parents?
---
A second EVANS connection is that of Mary EVANS, b ca 1710, who m Stephen WAINWRIGHT 30 Aug 1737. (See WAINWRIGHT, below.) Stephen Wainwright's will (Somerset EB4:104, written 1 Jan 1763, admin 12 Oct 1765) names brothers-in-law John EVANS and Nicholas EVANS. A 1739 deed from John EVANS gave 50 acres of land called Little Monmouth to "daughter Mary Winright wife of Stephen Winright". This land was located on the south side of Quantico Creek, "in a swamp". Mary's father could be John EVANS, Sr., who lived in about the right time frame and was the son of Nicholas Evans. In 1723, a John EVANS, Sr. was listed along with George COLLIER as next-of-kin to Col. Nicholas Evans.


HIGGINS :
I'd like to find the parents of Isabell HIGGINS, who married George MITCHELL in 1668 in Manokin, Somerset County, Maryland. She and George lived on Monie Bay. (see MITCHELL below)


LARRAMORE / LARMORE :
Thomas LARRAMORE was b cir 1690 and married Mary ____ about 1710. Thomas owned such tracts as Coopers Mistake between the Nanticoke and Wicomico Rivers, Mount Hope, location unknown, Recovery on the south side of Wetipquin Creek, Ticknell, about 2 miles from Wetipquin Creek near Tyaskin, and Turnstile, location unknown. All this land added up to almost 800 acres. Thomas died around 1731, when he willed some of his land to his son. Children of Thomas and his wife Mary were:
Elizabeth LARRAMORE

, b cir 1710, m1 Henry McCABE by 1728, m2 Archibald RITCHIE 10 Apr 1732

Catherine LARRAMORE

, b cir 1715, m Elias VENATSON

John LARRAMORE

, b cir 1720


LONDON :
The nationality of Ambrose LONDON is unknown, but his early life was possibly spent in England and Holland. A source has given an alternate spelling of the surname as LONNEN. Born around 1618, he arrived in America before 1641, and was among the first settlers of Gravesend, Long Island, where he made several land purchases and contracted to have a house built. In 1641, he married Mary CORNISH, daughter of John CORNISH of Flat Lands, Long Island. In 1653, Ambrose petitioned for a pass to go to Virginia, and in Jun 1659 he was in Northampton County with his wife. Apparently, he was back on Long Island by 1661, when he gave a note for the purchase of a house and plantation on the North River. In 1663/4, he was back in Northampton County, Virginia again, in trouble with the court for his non-conformist behavior. The Northampton Grand Jury charged him "for not coming to church and being brought before the court demeaned himself insolently and appeared under the notion of a Quaker" and fined him 1000 lbs of tobacco "for Sabbath breaking and his said Insolent behavior." In 1665, Ambrose and his family came to the Annemessex section of Somerset County, Maryland, where he became a prominent planter and landowner. He was very active in the county's civil and military affairs and was commonly referred to as "Major". He was a Justice of the Peace in 1683, and was elected to the Lower House of the Maryland General Assembly in Jan 1671, though there is no evidence that he took his seat. Ambrose died prior to Nov 1706. The children of Ambrose and Mary were:
Samuel LONDON

, b 1642 Gravesend, L.I., NY, d cir 1652 Gravesend

Mary LONDON

, b cir 1644 Gravesend, m Teague RIGGIN 1667 Somerset County, d after Aug 1730 Somerset Co.

Thomas LONDON

, b 1646 Gravesend, d 1662/3 Northampton Co., VA

Ruth LONDON

, b 1657 Gravesend, m Thomas WALSTON 1677 Somerset Co.

Abigail LONDON

, b 1660 Northampton Co., VA, m Thomas LIDSTER 1682 Somerset Co., MD, d 1692 Somerset Co.


MITCHELL :
I don't know much about George MITCHELL. He was born about 1635 and was in Manokin section by 1666, owning lands on Monie Bay between Great and Little Monie Creeks. The marriage banns for George MITCHELL and Isabel HIGGINS, "of Somerset", were published in Somerset Court records 29 Sep 1668. They had issue:
Margaret MITCHELL

, b cir 1669 at Manokin, m George DOWNES

Elizabeth MITCHELL

, b 27 Dec 1670 at Great Monie Hundred, Somerset County, m Thomas DASHIELL in 1686

Priscilla MITCHELL

, b 1671 at Manokin, m George DASHIELL 1694, d cir 1735

Isabel MITCHELL

, b cir 1672 at Manokin, m1 James DASHIELL, m2 Joseph McCLESTER cir 1710


RIGGIN :
My earliest link to this surname is Teague RIGGIN, born about 1640 in Ireland.
A member of the Irish Clan of Reagh, he was in Somerset County, Maryland by 1667, when he married Mary LONDON. A 16 acre tract of land called "Teague's Down" was patented by Ambrose LONDON and sold by him and his wife Mary to their daughter Mary RIGGIN, wife of Teague in 1670. This land was between the Annemessex and Manokin Rivers. Between 1676 and 1683, Riggin acquired several tracts, including "Golden Lyon" between the Pocomoke River and Morumsco Creek. Most of the lands were eventually conveyed to Teague's sons and sons-in-law. Teague and Mary had issue:
Mary RIGGIN

, b 04 Jan 1668 at Annemessex, d after 1726

Teague RIGGIN

, b 27 Mar 1670 at Manokin, m Elizabeth ___, d 1722

Ambrose RIGGIN

, b 18 Oct 1673 at Manokin

Sarah RIGGIN

, b 18 Apr 1676 at Morumsco, m Peter DICKERSON, d before 1733

Ruth RIGGIN

, b 31 Jan 1678 at Morumsco

Darby RIGGIN

, b 01 Aug 1683 Somerset Co.

Rachel RIGGIN

, b 28 Jun 1683 Somerset Co.

Samuel RIGGIN

, b 04 Apr 1689 Somerset Co.


RITCHIE :
Archibald RITCHIE, b ca 1710, place unknown, m Elizabeth LARRAMORE, widow of Henry McCABE, in 1732. Archibald d 11 Nov 1778 in Somerset Co. An Archibald RITCHIE is listed as a sheriff in Essex County, VA and is named in a deed there in 1765, but I doubt if it is the same guy. Arch and Elizabeth has issue:
Margaret RITCHIE

, b ca 1735, m Elihu MEZICK

James RITCHIE (I)

, b 02 Apr 1738, d before Aug 1746

Elizabeth RITCHIE

, b 03 Oct 1741, d 05 Apr 1742

Daniel RITCHIE

, b 18 Feb 1743, m Delilah MEZICK

James RITCHIE (II)

, b 17 Aug 1746


ROBERTSON :
William ROBERTSON was born ca 1730, probably in Somerset County, MD. He m Sarah DASHIELL May 1753 (Stepney Parish). Their childrens' births were recorded in Stepney Parish records:
Joseph ROBERTSON

, b 22 Oct 1755

William ROBERTSON

, b 05 Sep 1757

Peggy ROBERTSON

, b 30 Mar 1760

Isaac ROBERTSON

, b 29 Dec 1762, d 25 Jan 1763

Jesse ROBERTSON

, b 23 Oct 1764

Mitchel ROBERTSON

, b 14 Feb 1767

Samuel ROBERTSON

, b 12 Feb 1770, m ___ ___ (??Nellie LARMORE??) ca 1803

Anne ROBERTSON

, b 05 Jun 1774

Thomas ROBERTSON

, b Aug 1775



STREET :
I believe that my line is that of Mansfield STREET, born about 1750. I don't know in what Eastern Shore county he was born, but have information that the family may have come from Dorchester County, ending up in Somerset. Mansfield's will of 18 Dec 1816 (proven 17 Feb 1818) was in Somerset County. In it, he does not name a wife, so she must have predeceased him. His children, however, are listed:
Mansfield STREET

, b cir 1775

Zacheus STREET

, b cir 1778

Mary (Polly) STREET

, b 21 Nov 1781, m Joshua WAINWRIGHT 1810 in Dorchester County, d 28 Feb 1847 in Somerset County. She's buried in Clara, Wicomico County.


WAINWRIGHT :
William WAINWRIGHT was born cir 1675, place unknown. Speculation exists based upon a family legend that the first Wainwright ancestor came down from the Puritan colony of Boston. William married Mary CANNON, daughter of Stephen CANNON and Judith BLOYCE, around 1690, and the marriage brought William part of Mary's father's land in "Cannon Shott" and "Doughty's Lott", both on the south side of Wetipquin Creek, south of the Nanticoke River. William added to his land, acquiring "Woolhope" and "Pasturage", both on the north side of the Wicomico. William died about 1711. The children of William and Mary WAINWRIGHT were:
Stephen WAINWRIGHT

, b cir 1690, m Mary EVANS, d 1763-5

Cannon WAINWRIGHT

, b cir 1691, m Rebecca ____, d 1754

James WAINWRIGHT

, b cir 1692, m Eleanor COLLIER, d 1794-5

William WAINWRIGHT

, b cir 1693, d after 1763

Judith WAINWRIGHT

, b cir 1694


WALLER :
I received information that my Jacob MEZICK's second wife was Elizabeth WALLER, not Elizabeth NELSON as other sources reported. They would have been married around 1715, probably in Stepney Parish, Somerset County, where their childrens' births were recorded.
Can anyone confirm a Marriage between Jacob MEZICK and Elizabeth WALLER? Who were Elizabeth WALLER's parents?


WHITE :
Joseph WHITE was born ca 1785 and m Polly _____ (HILLMAN?) about 1805.
According to a 1922 Wicomico News article (and I've never been able to independantly confirm this information), they had the following children:
Henry WHITE

, b 20 Dec 1807 (Stepney Parish), m Sarah &quot:Sallie" ELLIS 19 Jun 1828, d 24 Feb 1850. "Captain of what was known as the 'Ferry Militia', a division of the state militia, and an early Bay captain." He also was a tavern owner, and a member of the I.O.O.F.

Hamilton WHITE

, b ca 1809, "went west in an ox cart and settled at Salem, Marion County, IL."

Peter WHITE

, b ca 1810, "resided in Philadelphia."

Dr. William WHITE

, b ca 1811, "was seriously hurt on a wheat treading yard. He then abandoned farming" and became a physician. In 1851 he graduated from the University of Maryland and went west, settling in IL. "He married Susan JENNINGS, cousin of William Jennings Bryan."