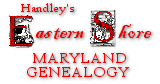 Eastern Shore
Internet Research Links
---

Lower Delmarva Area Genealogy Mailing List
This is a discussion area for anyone who has an interest in genealogy on the Lower Delmarva Peninsula. There are lots of helpful, friendly list members waiting to welcome you. Join us and post your surnames, queries, questions, etc.
Subscribe to the Lower Delmarva Roots List
If you prefer, you can subscribe via eMail instead of using this form. For instructions, please see the Lower DelMarVa Roots FAQ page.
Messages are posted to the list using the LOWER-DELMARVA-ROOTS-L@rootsweb.com address. Please don't send subscribe and unsubscribe commands to the list.
Once you have subscribed, you will receive a "Welcome" letter which will tell you how to post to the list and give some guidelines. Please be sure to read this letter before attempting to post.
Messages sent to the LOWER-DELMARVA-ROOTS list are archived, and our host, RootsWeb, provides a couple of nifty search options for them:
---

MDGenWeb - Eastern Shore Sites
Content varies, but each county site provides an area to post and view queries, county history information, genealogy resources, maps, links to other sites, and to the USGenWeb and MDGenWeb data archives. Some counties offer a volunteer lookup service for books and other genealogy references, a surname registry, and online data. There are sites for each Eastern Shore county:
---

Please see each MDGenWeb county's site for information on posting queries.
You can also view others' MDGenWeb queries for these Eastern Shore counties:
It may take anywhere from a few minutes to a week for your query to be posted to the viewing page, since it must be done by hand in some cases. Please be patient.
---

From the ROOTS-L Databases and Files Site
Maryland Surnames in the Roots Surname List
---

Lower Delmarva Genealogical Society Online
This site contains news and information on meetings, membership, projects and publications of the L.D.G.S., as well as a comprehensive list of internet genealogy resources for the entire Lower Delmarva area. Also included are sections on the Research Center for Delmarva History and Culture, and the Wicomico County Free Library, two major repositories of area genealogical data.
---

Edward H. Nabb Research Center for DelMarVa History and Culture
The Nabb Center is merely the premier place to do research on DelMarVa family or general history. The available resources are first-class and comprehensive, the staff is friendly and go out of their way to help, and the web site has a bundle of interesting information. Take a look - you'll see what I mean.
---

Upper Shore Genealogical Society
Online resources to help the USGS in their goal to discover, collect and disseminate data and records significant to history and family research in the counties of Kent, Queen Anne's, Talbot, Caroline and Dorchester.
---

DelmarvaSettlers.org
This site, a cooperative effort between the History Department of Salisbury University, the Salisbury University Foundation, and the Edward H. Nabb Research Center for Delmarva History and Culture, offers transcribed primary documents from the seventeenth and early eighteenth centuries, biographical profiles of the Eastern Shore's earliest settlers, narratives addressing the unique concerns and challenges these early settlers faced, and a selection of relevant research materials that have been collected and stored in databases. It also offers scans of seventeenth- and eighteenth-century documents in their original handwriting, including ink flourishes and "doodles" drawn in page margins.
---

Mattapony
Bob Jones started this site to preserve and study the history and families of old Mattapony Hundred, in Worcester County. He has amassed a great deal of really interesting news items, photographs, and other tidbits of history with the help of the many site members who also contribute.
---

Coalition to Protect Maryland Burial Sites
Formed in 1991, the Coalition is committed to the protection of human burial sites from unauthorized and unwarranted disturbance, by man or nature. Their motto: "To Build the Future, We Do Not Have to Destroy the Past".
---

African-American History In Maryland
This is a list of links to various web sites about African-American heritage in Maryland, including a lot of Eastern Shore material. You'll find sites about individuals like Harriett Tubman and Frederick Douglas, both born on the Shore, about the institution of slavery in this area, abolitionists, free blacks, slaves who embarked on the quest for freedom in the north, and more.
---

Ocean City Life-Saving Station Museum
An exciting site, full of historical information on the Ocean City area in general, and the Life-Saving Station in particular. DON'T MISS their new Genealogy Archives section, with online transcriptions of Worcester County records!
---

Golden Lyon II Genealogical Research
Ralph Riggin's site is an independent online genealogy resource for studying related families of the Lower Delmarva Peninsula. Mr. Riggin shares the fruits of his 15 years of research in this area, as well as a bibliography of publications used in his online book, Allied Families of the Delmarva Peninsula.
---

GHOTES (Genealogy and History of the Eastern Shore of Virginia)
Many of our Eastern Shore Maryland ancestors began their lives in America by being transported to Virginia's Eastern Shore (Accomack and Northampton Counties). Don't miss this awesome, extensive site!
---

DelmarvaObits.com
Searchable online listing of contemporary obituaries in the Delmarva area.
---

Delaware Genealogical Society
On the flip side, many Eastern Shore Maryland citizens, either by moving themselves, or having the boundaries moved around them, ended up in Delaware (primarily Sussex County). This is a completely awesome site for Delaware research. Check it out!
---

Cindy's Genealogy on the Eastern Shore of Maryland, Delaware and Virginia
Cindy Bennett is collecting a wealth of wonderfully useful data on this site, including lots of graveyard records, wills, deeds, census data, church records, and vital records. Very cool!
---

Grandfather's Clock
Genealogy and history pages for Maryland, Delaware and Virginia's Eastern Shore. There's lots of great stuff here, including old newspaper records and profiles of old Eastern Shore businesses, individuals, families and towns, brought to you by Buddy Richardson, owner of the Grandfather's Clock BBS.
---

The Family Tree Bookshop
This is a great place to get all the Eastern Shore Genealogy publications you need. Proprietors Neil and Leslie Keddie are very helpful, and love to talk shop. If you see a book in their online catalog that you're interested in, they'll tell you, based on what families you're researching, whether it'll be a good buy for you.
---

Craig O'Donnell's Fassitt Information
Craig's site is an eclectic mix of genealogical items and artifacts primarily about the Fassitts of Accomack, VA and Worcester, MD, as well as tidbits about general DelMarVa history, sailing, boats, genealogical data. I could go on, but I don't have enough room. Just go look . . . go on!
---

Hitch Genealogy
Mike Hitch has a growing list of great features at this site. In addition to detailing the descendants of Adam Hitch of Old Somerset County, Mike has included lots of other interesting and useful items, most notably his scanned images of Somerset, Wicomico and Worcester maps from the 1877 Eastern Shore Atlas. Don't miss it!
Eastern Shore Genealogy Personal Data Sites

The Reddish Family, by Susan Curelop, chronicles the Reddish clan in Maryland, Virginia, New York and Nebraska.

Kim and Jim Hepfer's Genealogy Site, includes information on Kim's Eastern Shore lines.

Gootee Genealogy in America, by Bob Gootee, has lots of "Gootee Goodies" pertaining to Maryland, Delaware, and elsewhere.

Marla Kay's Genealogy Page includes data on the Urie family and allied lines, mostly in Kent and Queen Anne's Counties.

Robert Simms Genealogy contains data on his lines in GED2HTML format, as well as research and resource tips, and more.

Tim Kemp's Genealogy, includes information on Kemp, Murphy, Parrott, Webb and allied families of Talbot County.

Dave Fletcher's Site covers the Rownd / Round and Fletcher families.

Astral's Home Page has Al Wooten's Wooten, Parsons and Layfield families, and a history of the Victor Lynn steamship lines.

Root & Branch, researching the Shawhan and related families, with Kent and Talbot County connections.

The Dennis Family Worldwide Genealogy has a lot of data on the Dennis family of Somerset County.

Maddux Cousins has information on descendants of Alexander Maddox (1613 - 1660), many of whom were in Somerset County.

Pat Patterson's Genealogy has lots of data, including 8 generations of descendants of Richard Shockley and Ann Boyden of Somerset.

Maryland Eastern Shore Family History has records and data pertaining to John Hammel's family lines on the Shore.

Handley Family Notes has Eastern Shore Maryland and Delaware data gathered by Barbara Jean Handley Woolston.

Phebus Genealogy Index, maintained by Hank Phebus, includes Eastern Shore descendants of George Phebus (1650-1746).

The Wells and Allied Families of the Eastern Shore of Maryland and Delaware.

FamilySearch - The resources of the LDS Genealogy Collection available and searchable online.

Maryland State Archives

Rootsweb's Guide to Maryland Genealogy

American Life Histories - Manuscripts from the WPA's Federal Writers' Project, 1936 - 1940

GenForum - Message boards for many surnames and geographic areas.

SSDI Search - RootsWeb's searchable Social Security Death Index is unique in that it also allows you to add "Post-Em" notes to individual entries for other researchers to see.

Old English Writing - Examples of old English handwriting taken from wills and patents written in the period 1795-1838. Help for deciphering your old documents!

National Archives - genealogy page.

Cyndi's List of Genealogy Sites on the Internet. Cyndi Howells' site is the most complete list of genealogy links available. You can pretty much count on this - if it's genealogy, and it's on the Internet, Cyndi has it listed. An absolutely awesome collection of links.

Cyndi's Genealogy Home Page Construction Kit - Use this site, which has absolutely everything you need to make a home page of your own, and send me the address when you're done. I'll put a link here to your new genealogy home page!