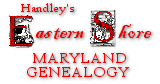 Shari Handley's
MEZICK LINEAGE
---
Please do note that much of the information given here has been obtained from third parties, and has not been proven or substantiated. Some of it is pure conjecture. Researchers should not consider these lines as proven unless they obtain the appropriate source documentation for themselves. - Shari Handley
THE

DENOTES A DIRECT ANCESTOR
---

Julian MEZICK was born about 1645, perhaps as a Huguenot in France. About 10 years after being transported in March of 1664/5 to Accomack County, VA by John TILNEY, he proved his right to 50 acres of land in Maryland. In September 1681, he acquired 100 acres in Nanticoke Hundred. All of this land he called Nantes, perhaps after the Edict of Nantes or after the city by that name in western France on the River Loire. In 1710, he deeded 200 acres of land on the south side of the Nanticoke River and on Wetipquin Creek to sons John, Jacob and Joshua. Julian's will, probated in June 1718, mentions his wife Priscilla and his children.
Julian Mezick married on April 29, 1674 to Sarah COVINGTON, daughter of a prominent Quaker planter named Nehemiah COVINGTON. She was born around 1654 in Eastville, Northampton County, VA, and moved into Somerset County, MD with her family in 1662. She and her sister Katherine may have been twins. Julian and Sarah had 5 children together:
Nehemiah, b abt 1676 in Somerset Co., m Sarah HOPKINS (b 1675) abt 1724, d August 1751 in Dorchester Co., MD.
John M., b abt 1678 in Somerset Co., m Mary Collier (b abt 1680), d abt 1746 in Worcester Co., MD.
Richard, b abt 1680, d before 1715

NOTE! According to the MD IGI, Richard was a child of Julian, but I do not have any corroborating evidence of this.

Jacob, b abt 1682 (SEE BELOW)
Joshua, b abt 1684, d abt 1718 in Somerset County.
Sarah must have died sometime after Joshua's birth, because Julian married again, this time to Priscilla NICHOLSON. Of Julian's 10 or 11 children, I have attributed the last 6 to Priscilla, because Julian's will mentions "my wife's six children" and names them (all born in Somerset County):
Joseph, b after 6 Jan 1698, m Grace ____(b abt 1697), d abt 1761 Somerset Co.
Isaac, b after 6 Jan 1698, m 1st Sarah ____, 2nd Ann WINDSOR, d August 1779 in Sussex County, DE.
Benjamin, b after 6 Jan 1698, m 1st ____ MACOMB, 2nd Betsy ____, d April 24, 1773
Julian, b after 6 Jan 1698, d abt 1742
Sarah, m Joseph DASHIELL
Mary

Jacob MEZICK was born about 1682 in Somerset County, Maryland. He had been given 1/3 of his father's land, Nantes in 1710, and acquired more land as the years went by: 45 acres called Pasturage patented in 1724 "on the south Nanticoke River at a marked white oak", 100 acres named Ellingworth's Hope purchased in 1726, and 34 acres called James' Lott patented in 1753 (willed to grandson James Mezick in 1761).
Jacob Mezick married first Rachel COVINGTON, daughter of Abraham COVINGTON, and they had 2 children together before Rachel died (apparently) about 1714:
Dinah, b abt 1712 in Somerset Co., m John NELSON on January 13, 1745 (Stepney Parish)
Rachael, b abt 1714 in Somerset Co., m 1st Lewis Beard, 2nd William Ellingsworth
After Rachel died, Jacob married again. The question is: WHO?? Jennings' "Messick Ancestral File" had given me the information that Jacob's 2nd wife was Elizabeth NELSON. Now, I had always had a bit of a problem with this, as some dates didn't make sense regarding land left to Elizabeth and her sister by their father, John NELSON. A new source says that Elizabeth NELSON actually married Jacob MEZICK JUNIOR, and that Jacob SENIOR had married 2nd an Elizabeth WALLER. I tend to think that this new source is correct. I just need some confirming information regarding the marriage.
DOES ANYONE HAVE INFORMATION ON A POSSIBLE MARRIAGE BETWEEN JACOB MEZICK AND ELIZABETH WALLER?
Their 5 children were:
Elihu, b June 24, 1716 in Stepney Parish, Somerset Co. (SEE BELOW)
Joshua, b abt 1718
Aaron, b abt 1720 in Somerset Co., m Mary ____ (widow of Roger NICHOLSON), d Nov., 1774
Covington, b abt 1722, m Sarah Ann CORBY abt 1749, d 1771
Jacob, b abt 1724, m 1st Sarah Ann Corby (widow of his brother Covington) abt 1771, 2nd Sarah PORTER in 1772 , d 1791

Elihu MEZICK was born June 24, 1716 in Stepney Parish. Somerset Co. His occupation was listed as "bricklayer" in a deed. In 1748 he was in Capt. Day Scott's company of the Somerset County militia. He was on the tax list for Nanticoke Hundred in 1750 and 1756. In 1746 he acquired about 150 total acres of land which were parts of the Nantes, Pasturage and Ellingsworth's Hope tracts. In 1763 he patented 27 acres called Lee's Situation. In 1783 he bought 75 acres called End of Strife, and 17 acres called James' Lot in 1786. Finally, in 1788, he again patented 3 separate tracts totalling about 60 acres called Mistrust, The Gore and River Tract. Apparently bricklaying was lucrative work back then (g). He died July 26, 1788 in Somerset Co., and his will, which mentions his wife and 12 of his children, was proven in November 1788.
Elihu Mezick married twice, first to Sarah FISHER, daughter of Henry and Mary Fisher, around 1739. They had 5 children together in Stepney Parish, Somerset County before Sarah died, around 1754:
Delilah, b Mar 17, 1740, m Daniel RITCHIE Jun 27, 1762, d before 1788
Catherine, b Sep 5, 1742, m Elijah LARMORE Apr 8, 1766
James, b Jan 11, 1744, m Elizabeth ___, d Mar 5, 1826
Elizabeth, b Jun 5, 1747, m William BENSON, d before 1788
Fisher, b Mar 30, 1754
Elihu remarried after the death of Sarah, to Margaret RITCHIE, daughter of Archibald Ritchie and Elizabeth LARRAMORE McCabe (widow of Henry McCabe). They had 9 children together, all in Stepney Parish, Somerset County:
Elihu, b Mar 20, 1756 (SEE BELOW)
Sarah, b Jan 1, 1758, m Solomon McKIMMEY, d Jun 1, 1780
Mary, b Feb 21, 1760
John Ritchie, b Feb 16, 1762, m Nancy HOPKINS
Daniel, b Jun 17, 1764, m Priscilla WAINWRIGHT Feb 21, 1797, d 1800
Amelia, b Jun 23, 1766
Susannah, b Oct 8, 1768
Martha, b Mar 29, 1773 (twin to Mathew)
Mathew, b Mar 29, 1773

Elihu MEZICK (Jr.) was born March 20, 1756 in Stepney Parish, Somerset County. Over the course of his life, he acquired lots of land and must have been pretty comfortable, financially. Since he would have been about 20 when the Revolution broke out, I have looked for indication of his involvement, but have found none. I think there is a chance that he and his family were loyalists. Elihu had a cousin named Joshua Cornwallis MEZICK (son of Elihu Sr.'s brother Jacob) born in 1778. Some of the land purchased or patented by Elihu were: 587 acres patented in 1794 with his cousin Covington MEZICK called Spy, a 1799 purchase of 4 adjoining tracts named End of Strife, Lee's Situation, The Gore, and River Tract totalling 135 acres, and a purchase later in 1799 of 288 acres called Recovery. Elihu and his family are listed on the 1800 census in Nanticoke Hundred. His will, administered by his cousin Covington in January, 1809, mentions his widow and children.
Elihu Mezick married Leah DOUGHERTY, daughter of John Dougherty and Leah DICKERSON, on May 13, 1792. One year after Elihu died, Leah remarried, to Elihu's cousin Covington (after his first wife, Leah WILLIS, had also died). Elihu Mezick and Leah Dougherty had 7 children together:
Dickerson Doughty, b Apr 6, 1793 in Somerset Co., m Sally BEDSWORTH Jun 15, 1816 [

INTERESTING NOTE: The Dec, 1817 issue of the

MD Gazette

contains a Proclamation offering a $300 reward for the capture of Dickerson, whom, it seems, had escaped from the "gaol" of Somerset County on Oct 6, 1817, where he had been sentenced, along with a man named Girard MORRIS, to 7 years confinement for kidnapping!

]
Eleanor, b Nov 29, 1795, m Levin W. MEZICK Feb 20, 1819, d Sep 15, 1861
Harriet, b Aug 27, 1798, m Major SELBY Jan 23, 1817
John, b Feb 27, 1800, d "young"
Tubman, b Nov 4, 1801, m Nancy JONES Feb 17, 1827
Samuel, b Jan 24, 1803, m Druscilla DENSON Dec 15, 1835
Francis, b Oct 24, 1805 (SEE BELOW)

Francis MEZICK was born Oct 24, 1805 in Somerset County. He received about 50 acres of the large Spy tract on the east side of the Nanticoke River and north side of Wetipquin Creek from his father's estate. In 1838 he and his wife Sarah Anne purchased 65 acres called Evans Second Chance and Sidney on the north side of the Wicomico River near Shiles Creek from her parents, James and Polly DENSON. Francis' family is listed on the census in 1840 and 1850 in the Tyaskin District. He died Jul 11, 1863, and his personal estate inventory, administered by his son "Dr." Isaac Mezick, lists his widow and all his children except Martha. Francis and his wife are both buried in Whitehaven, Maryland, off Capitola Rd. Next to his grave is the grave of "Ann Mezick 1812 - 1883". This may be Sarah Anne's grave. Sarah had a sister who was also named Sarah and went by "Sally", so it is possible that Francis' wife was known as "Ann". In the 1850 census, however, Sarah is listed as being 41 years old, which would put her birth year at 1809, not 1812.
Francis Mezick married Sarah Anne DENSON, daughter of James and Polly Denson, on Jan 1, 1834 in Somerset County. They had 5 children together:
Martha A., b Sep 27, 1834
Sarah E., b Feb 13, 1837 in Somerset Co., d 1905, buried in Whitehaven
Isaac Francis, b May 20, 1839 (SEE BELOW)
Albert Emery, b Sep 17, 1842, m Julia ___ abt 1880, d 1917, buried in Whitehaven
John Cadmus D., b 1846, m Hester L. ____, d 1903, buried in Whitehaven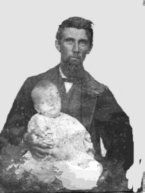 Isaac Francis MEZICK was born May 20, 1839 in Somerset County. He is called "Dr." Isaac Mezick in the 1864 inventory of his father's estate. In June, 1867 he sold &quotAll property of Francis, father" to Albert E. Mezick. The photograph shown at right, scanned and fixed up from the original tin-type, shows him holding his infant son, Luther F. This photo would have been taken some time in 1869. On the 1880 Federal Census for Wicomico County, Tyaskin District, he's listed with his wife, Elizabeth, his 6 children born by that time (a 7th was born in 1882), and 2 step-sons. His occupation is given as "farmer" at that time. The 1900 census shows them in the Trappe District of Wicomico County. By that time, only 3 of his children are still living with him, and his occupation is given as "shipping agricultural produce". An article in the July 17, 1988 issue of The Daily Times of Salisbury, Maryland mentions Isaac and Elizabeth. The article is about James and Harriett (Jones) Wilson, an African-American couple who were celebrating their 70th wedding anniversary in Whitehaven. The article says, "Wilson, who was the son of the late Henry and Marie Wilson of Westover, was raised by what he fondly describes as a 'prominent white Christian family' in Fruitland, Mr. and Mrs Isaac 'Ike' Messick. He said 'Mr. Ike' and 'Mrs. Beth' taught him how to read and write, to farm, to manage his money, to own property and to have strong Christian values and respect. He often speaks of how well he was treated by them and that he felt like a member of the family." From a photograph which I copied from the original owned by the late Harlan Mezick of Fruitland, I was able to locate Ike and Beth's home, which is still standing in Fruitland, just down the street from St. John's Methodist Church, where they are both buried. Elizabeth died Oct 28, 1913, and Isaac died about 9 years later, on Feb 4, 1923.
Isaac Francis Mezick married Elizabeth Jane White, daughter of Henry WHITE and Sallie ELLIS, about 1868. Elizabeth was born May 25, 1840 and married first to Thomas HUGHES. They had 4 children together before Thomas died sometime between 1863 and 1868. Isaac and Elizabeth had 7 children together:
Luther F., b Jan 11, 1869 (SEE BELOW)
Millard Milton, b Dec 11, 1870, m Nora WILLIAMS Dec 29, 1904, d Jan 28, 1927 in Fruitland
Gurney Washington, b Dec 8, 1872, m Fannie RUARK Dec 27, 1899, d Apr 11, 1952 in Fruitland
Hurvey Clark, b Oct 7, 1875, m 1st Virgie GRAY, 2nd Clevie SCHOFIELD 1924, d Mar 12, 1947
Otis Latimer, b Oct 4, 1876, d Mar 24, 1953 in Columbus, OH, buried in Fruitland
Sarah Ella (Ella S.), b Nov 20, 1879, m Prescott GILLILAN Apr 28, 1919
Addie Grace, b Aug 22, 1882, d Nov 26, 1895 in Fruitland

Luther F. MEZICK was born Jan 11, 1869 in Tyaskin, Maryland. In addition to being a farmer and oysterman, he was an extremely devout Christian - he and his daughter Audrey travelled the country as "Singing Evangelists", and they were very involved in the Temperence movement. I have a copy of published sheet music for a hymn he wrote. I have a booklet that gives a glowing review of their work, saying "Professor Mezick and his daughter are widely known throughout America as Temperance and Gospel singers. They have travelled through nearly all the states and their record seems to be of unbroken success and their influence for good has been very powerful. For a number of years past they have been employed by the National Prohibition Committee, in which capacity they have made good, and they come to us strongly endorsed by this organization. Read the following testimonials from folks who know them and who have heard them sing:
'We consider them the very best gospel singers before the country today'. Rev. C.E. McClelland, pastor Fairhall Baptist Church, Philadelphia.
'Few singers of religious, patriotic and temperance songs have charmed and impressed me as have Prof. Mezick and daughter'. Dr. S.C. Swallow, editor, Pennsylvania Methodist and once candidate for Prohibition President."
On the back of a portrait photograph of Luther that I have, I found pasted a printed tract of paper:
"Lines on the death of Luther F. Mezick" by C.W. Strickland

He sang because the eternal song
Came sweeping o'er his spirit.
He sang the triumph over wrong,
Through Jesus' blood and merit.
He sang the rapture of a soul
Of all its sins forgiven.
He wept and prayed o'er sinners lost,
And sang them back to heaven.
Through busy, happy, toilsome years
He kept the music ringing.
In weakness, agony, and tears,
He would not cease his singing.
And, standing deep in death's cold tide,
And looking o'er the flood,
"I'm sweeping through the gates", he cried,
"Washed in His precious blood."
Hark! what a burst of rapture rolls
Across the darkling River - -
His spirit joins the happy souls
Who sing God's praise forever.
Luther died Mar 27, 1917 in Clara, Wicomico County, and is buried in Fruitland with his wife. Family lore says that he was to have surgery to remove a "carbuncle" on his back, and died after being given ether. In his will, probated Apr 24, 1917, he gives his guitars to his daughter, his gun to his oldest son, his watch to his second son, and the balance of his property to his wife during widowhood. She never remarried.
Luther Mezick married lovely Carrie Roberta ROBERTSON, daughter of James Washington Thomas Robertson and Esther A. Evans Robertson at the Trinity Methodist Church in Tyaskin on Jun 24, 1891. Carrie lived for many years after Luther died, until she finally joined him on Jul 20, 1946. They had 3 children together:
Audrey M., b Jan 19, 1893, m George H. MOORE Sep 18, 1923, d Jul 5, 1969 in Tyaskin
Evan Carlyle, b Jan 7, 1898 (SEE BELOW)
Herbert Luther (Clarence), b Mar 19, 1900, m Shellie SHORES Mar 25, 1922, d 1966 in Tyaskin

Evan Carlyle MEZICK was born Jan 7, 1898 in Clara, Wicomico County, Maryland. He worked in the Tool and Die trade as a Machinest, and was at one time a salesman as well. He died Mar 8, 1960 in Tyaskin and is buried in the Robertson family graveyard in Clara, Maryland.
Carlyle, as he was called, married Lillian Ruth YOUNG, daughter of George F. Young and Mary Ruth HANNA, on Jun 5, 1920 in Baltimore. Lillian died Jul 20, 1976 in Baltimore. They had 8 children together:
baby girl, stillborn abt 1924
Evan Carlyle, Jr., b Jan 26, 1925 in Baltimore, m 1st Doris BUZZARD, 2nd Anna Marie WOLF, d Dec 16, 1991 in Baltimore
Marvin Gerald, b Nov 12, 1926 in Baltimore, d 8 Mar 2006 in Baltimore, m Mabel Gertrude ABBOTT. Mabel d Dec 6, 1980 in Baltimore.
Ronald Bryan, b Sep 11, 1928 in Baltimore, m Betty Jo LIPSCOMB, d Jun 20, 1998 in Baltimore County
Eugene Arlon, b Feb 25, 1930 in Tyaskin, d Oct 22, 1993 in Baltimore
Sharlene Ruth, b Aug 6, 1933 in Salisbury, d Dec 10, 2014 in Michigan, m George Edward CLAYTON. George d Sep 19, 2011 in Michigan
Rosemary Ann, (living), m Gerald BATHURST in Baltimore
Burton Alan, b Feb 11, 1946 in Tyaskin, d Feb 2, 2015 in Florida, m Joyce COMEGIES.