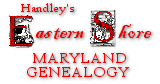 Where to Get Primary Source Documents and Other Information
Government Agencies, Genealogical Societies, Historical Societies, Etc.
---
Regional Shore Resources
Lower Delmarva Genealogical Society
P.O. Box 3602
Salisbury, MD 21801

Upper Shore Genealogical Society
P.O. Box 275
Easton, MD 21601

Lower Shore Genealogical Society
1133 Somerset Ave.
Princess Anne, MD 21853

Edward H. Nabb Research Center for Delmarva History and Culture
Salisbury University
Wayne & Milford Streets, Salisbury, MD
(410)543-6312

Mailing address:


c/o Salisbury University
1101 Camden Ave., PP 190
Salisbury, MD 21801
The Edward H. Nabb Research Center for Delmarva History and Culture is a repository for documents and artifacts pertaining to the Delmarva Peninsula. The Director of the Nabb Center is Rebecca F. Miller. Let me just begin by saying that you could really, *really* spent a LOT of time here, happily discovering all of the wonderfully comprehensive materials that are available. Just one example is The Leslie Dryden Collection, the largest privately assembled collection of genealogical material on the Eastern Shore. This epic project by the late Mr. Dryden, a local genealogist, is a collection of genealogical data on over 1800 families, assembled in dozens and dozens of 3-ring binders.
They also have an interesting addition to the site called the American Origins project. This is a prototype showing what can be done with tract map platting for just the section of Mt. Vernon in Somerset County, but there are person links to people who resided outside of Mt Vernon and you can search for individual persons. They have the IKL records, tax lists for Monie and Wicomico Hundreds, the 1734 debt book, and inventories of many individuals.
See the Nabb Center web site, linked above, for additional information about the facilities, fees, membership, and hours of operation. The Nabb Center is located on the east campus of Salisbury University on the southwest end of Power Professional Building on Wayne Avenue, Room 190. From Route 50, take Route 13 South Business to Bateman Street (1 block after stop light at West College Avenue); turn left; cross tracks and make right turn at Wayne Street; go past athletic fields and Power Street; turn left into parking lot at Power Professional Building (see map). The telephone number is (410) 543-6312, and their fax number is (410) 543-6068
Statewide Resources
Division of Vital Records
Maryland Department of Health and Mental Hygiene
6550 Reisterstown Road Plaza
Baltimore, MD 21215-0020
(410) 764-3036
The vital records office is open Monday through Friday and the third Saturday of each month, 8 a.m. to 4 p.m.
Records available: Birth and death records since 1898, marriage records since 1951, and divorce records since 1961. More information, including cost and ordering instructions, is available at their vital records web page. For marriage and divorce records, also check with the Clerk of the Circuit Court in the county where the license was issued or the divorce was granted. For divorce records, also check with the Clerk of the Circuit Court in the county where the divorce was granted.
Maryland State Archives
Hall of Records Building
350 Rowe Boulevard
Annapolis, MD 21401
(410) 974-3914 or (410) 974-3916
The Maryland State Archives is the repository for the records of state, county, and municipal governments within the state of Maryland. An excellent starting point for exploring all the different types of records they have available is located at their web site's Reference and Research page.
Hours: Tuesday - Friday 8:00 - 4:30, Saturday 8:30 - 12:00 and 1:00 - 4:30, closed Sunday and all state holidays.
Birth and death records are available at the Archives for all counties from 1898 to 1982. For most counties, they also have marriage records from 1777 to 1914, as well as other vital records, probate records, land records, photos, maps, newspapers, military records, naturalization and immigration records, federal census records from 1790-1920, state census records for 1700-1778, local histories, cemetery indexes, tax records, court records, and church records.
Now Available On-line! A website developed by the Maryland State Archives that contains the original 72-volume Archives of Maryland series as well as additional volumes. All of the volumes have searchable text as well as images of the pages. Several volumes are of particular interest to genealogists. Volume 18 contains the revolutionary war muster roles. There are also several volumes of county court records. They have also added several new volumes including additional court records from Somerset county. The url is http://www.archivesofmaryland.net.
Maryland Genealogical Society (MGS) and Maryland Historical Society
201 West Monument Street
Baltimore, MD 21201
(410) 685-3750 x36
The library of the Maryland Historical Society is open Monday through Friday 10 a.m. to 5 p.m. and Saturday 9 a.m. to 4:30 p.m. The Maryland Genealogical Society publishes a quarterly newsletter, The Bulletin. It includes over 500 pages of historical and genealogical material, family charts from personal and public records collections, transcribed public domain records, letters to the editor, queries and answers, plus a complete index and more.
County Resources
CAROLINE COUNTY

Caroline County Historical Society
c/o J.O.K. Walsh, President
P.O. Box 514
Denton, MD 21629
(410)479-0274

Caroline County Clerk
P. O. Box 458
Courthouse, Room 104, Market St.
Denton, MD 21629 - 0458
(410) 479-1811, fax (410) 479-1142

Caroline County Register of Wills and Orphan's Court
Courthouse - 109 Market St. Room 108
Denton, MD 21629 - 0416
(410) 479-0717 or toll-free (888) 786-0019
CECIL COUNTY

Cecil County Genealogical Society
P.O. Box 11
Charlestown, MD 21914

Historical Society of Cecil County
135 East Main Street
Elkton, MD 21921
(301) 398-0914

The Old Bohemia Historical Society
P.O. Box 61
Warwick, MD 21912

Cecil County Clerk
County Office Building, 2nd floor
129 East Main St.
Elkton, MD 21921
(410) 996-5370

Cecil County Register of Wills and Orphan's Court
Courthouse, 129 E. Main St., Room 307
Elkton, MD 21921
(410) 398-2737 or toll-free (888) 398-0301
DORCHESTER COUNTY

Dorchester County Historical Society
Meredith House
904 LaGrange Street
Cambridge, MD 21613
(410)228-7953

Dorchester County Clerk
P. O. Box 150
Courthouse, 206 High St.
Cambridge, MD 21613
(410) 228-0480

Dorchester County Register of Wills and Orphan's Court
Courthouse - 206 High St.
Cambridge, MD 21613
(410) 228-4181 or toll-free (888) 242-6257
KENT COUNTY

Kent County Historical Society
Church Alley
P.O. Box 665
Chestertown, MD 21620
(410)778-3499

Kent County Clerk
Courthouse, 103 North Cross St.
Chestertown, MD 21620 - 1511
(410) 778-7460

Kent County Register of Wills and Orphan's Court
Courthouse - 103 North Cross St.
Chestertown, MD 21620
(410) 778-7466 or toll-free (888) 778-0179
QUEEN ANNE'S COUNTY

Queen Anne's County Historical Society
P.O. Box 62
Wright's Chance, Commerce Street
Centreville, MD 21617

Queen Anne's County Clerk
Courthouse, 100 Court House Square
Centreville, MD 21617
(410) 758-1773

Queen Anne's County Register of Wills and Orphan's Court
Liberty Building - 107 North Liberty St., Suite 220
Centreville, MD 21617
(410) 758- 0585 or toll-free (888) 758-0010
SOMERSET COUNTY

Somerset County Historical Society
Teackle Mansion, 11736 Mansion St., P.O. Box 181
Princess Anne, MD 21853
(410)651-4276 or (410)651-2127

Somerset County Clerk
Courthouse, 30512 Prince William St.
P.O. Box 279
Princess Anne, MD 21853 - 0279
(410) 651-1630

Somerset County Register of Wills and Orphan's Court
Courthouse - 30512 Prince William St.
Princess Anne, MD 21853
(410) 651-1696 or toll-free (888) 758-0039
TALBOT COUNTY

Historical Society of Talbot County
25 South Washington Street
P.O. Box 964
Easton, MD 21601
(301)822-0773

Talbot County Clerk
Courthouse, 11 North Washington St.
Easton, MD 21601
(410) 822-2611

Talbot County Register of Wills and Orphan's Court
Courthouse - 11 N. Washington St.
Easton, MD 21601 - 0816
(410) 770-6700 or toll-free (888) 822-0039
WICOMICO COUNTY

Wicomico County Historical Society
Wicomico Heritage Center - Pemberton Park
Pemberton Drive
Salisbury, MD 21801
(410)860-0447

Wicomico County Clerk
P. O. Box 198
Salisbury, MD 21803
(410) 543-6551

Wicomico County Register of Wills and Orphan's Court
101 N. Division St., Room 102
Salisbury, MD 21803-0787
(410) 543-6635 or toll-free (888) 786-0018

The Allen Historical Society
Passerdyke Cottage
P.O. Box 31
Allen, MD 21810
George Shivers, President - (410) 749-9064
WORCESTER COUNTY

Worcester County Historical Society
P.O. Box 111
Snow Hill, MD 21863
(410) 632-1265 or (410) 632-2600

Worcester County Clerk
Courthouse, Room 104
One West Market St.
Snow Hill, MD 21863
(410) 632-0600

Worcester County Register of Wills and Orphan's Court
One West Market St., Room 102
Snow Hill, MD 21863 - 1074
(410) 632-1529 or toll-free (888) 256-0047