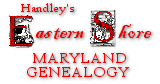 Fun Eastern Shore Web Sites
It's not genealogy, just more to explore for Shore adorers!
---

The Whitehaven Bed and Breakfast - Hosts Maryen, Carlton and Mark Herrett invite you to stay with them and enjoy the quiet evenings on their screened porch, walk the Village and savor the beautiful sunsets on the Wicomico River, or settle down in one of their two parlors for an evening of television or the company of a good book. The Whitehaven Bed and Breakfast offers five charming Victorian rooms, furnished with antiques, all with views of the river and marsh. They occupy two historic properties, the Charles Leatherbury House and the Otis Lloyd House.

The Alexander House Booklover's B&B - Located in the quaint historic district of Princess Anne, Maryland, each room in this inn offers a realistic interpretation of a famous author's own room in his or her time . . . the jazzy Harlem Renaissance of the Langston Hughes Room; a 19th-Century high seas adventure in the Robert Louis Stevenson Room; or the romance of Regency England in the grand Jane Austen Room. Relax with a book from the eclectic library in the Mark Twain Reading Parlor. Innkeepers Elizabeth and Peter Alexander also offer gourmet breakfast, afternoon tea or evening liqueur in the French Cafe Colette. Ooh-la-la!

Maryland Office of Tourism Development - Fun link! Tourism stuff, of course, but also history and cultural information, kids activities, shopping, deals, and on and on.

Assateague Island National Seashore - The official National Park Service site for Assateague contains lots and lots of information about the park, the ponies and other wildlife, the history of Assateague, and more.

Assateague Island Naturalist - Here's what it all looked like before Trimpers! Don't feed the ponies - they bite. This is a very cool site, with lots for visitors to see about plant and animal life on this barrier island.

Ocean City, Maryland - Visit (virtually) my favorite vacation destination! This site is brought to you by the Ocean City Chamber of Commerce. As the site says, Ocean City, Maryland offers free, clean, sandy beaches on the Atlantic Ocean, and a myriad of fun-filled activities for vacationers of all ages.

Kiteloft BeachCam - Real time, live web cam at 6th and Boards. You also get current temp, barometric pressure and humidity!
Howard Johnson Oceanfront Cam - 12th Street and Boards
Malibu's Surf Shop Cam - Live streaming video from the Ocean at 8th Street
Ocean City Web Cam - Boardwalk view down near Trimpers. An area of massive humanity in peak season.
Worcester Street WebCam - If you can see the boards, it must be off-season
Bahia Marina Cam - A lovely live stream of the marina and boats
OC Fire HQ Cam - A view of Coastal Hwy at 15th Street in front of the fire hall
Northside Park Cam - A wide view of this lovely gem
Route 90 Cam - A view of the point where Route 90 intersects MD 528 (Coastal Hwy), at about 62nd Street
Ocean City Drawbridge - Looking at the bridge over the coastal Isle of Wight Bay
Coastal Highway South View - High streaming view of MD 528 looking south from 65th Street
US 50 East of the Bay - Live stream looking back toward the bridge
Paradise Plaza Inn Cam - 9th Street
OC Beach Cam - Live from 9th Street on the Boards.
Today's Live Catch - The Ocean City Fish Cam at the OC Fishing Center. Yes, Fish Cam.


Trimper's Rides and Amusements - While we're talking about Trimper's, here's where you can find out all there is to know about this historic amusement park, founded in 1890. It is the home of the most beautiful carousel ride I've ever seen.

LowerShore.net - devoted to tourism venues, culture and heritage on the Lower Eastern Shore

At The Beach - Even more fun stuff about those lovely beaches. You can send an online Ocean City post card here, as well as get lots of good info on OC and inland communities.

River House Inn - This is a charming bed and breakfast in Snow Hill, Worcester County, Maryland. It is a National Register Victorian home on the Pocomoke River.

Waterloo Country Inn - This is an elegant country inn located in Princess Anne, Somerset County, Maryland. It was built in the 1750s by Henry Waggaman, and is listed in the National Register of Historic Places.

Skipjack.Net - Maryland's Lower Eastern Shore - A Great Place To Do Business! A Great Place To Visit! This site encourages economic development of the Lower Eastern Shore, and has loads of fun and interesting content.

Pocomoke River Canoe Company - Paddle the wild and scenic black waters of the Pocomoke River, Nassawango Creek and Assateague backwaters. Sounds like a great way to spend a day experiencing the natural wonders of the Lower Eastern Shore.

Ellis Bay WMA - Mostly marsh and forested wetland, Ellis Bay is a 3,000-acre wet wonderland. It is perfect habitat for ducks and wading birds, like herons and egrets. White-tailed deer and many other wildlife species also use the area.

Nanticoke WMA - The Nanticoke River, like the Pocomoke, is one of the Eastern Shore Rivers that drains into the Chesapeake Bay. In 1993, this 1,700-acre tract along the Nanticoke was purchased to help conserve the wildlife habitats found along this mostly tidal river.

Johnson WMA - A 115-acre pocket of forest and fields in southern Wicomico County, Johnson WMA was purchased in 1926, when the United States was in the first throws of environmental awareness. It was originally called Johnson Schoolhouse Game Refuge and was used to raise game animals for release into the wild. Today, it is a favorite spot for hunters and outdoor enthusiasts who enjoy eastern Maryland's bountiful wildlife.

All About Blue Crabs - OK, when you think about the Shore, and about food, the first thing that pops into your mind is steamed blue crabs. Right? Well, it OUGHTTA be. This site will tell you everything about the species, how to catch it, steaming, picking, storing, recipes. Speaking of recipes, here's another site for Eastern Shore Recipes.

Yourcommunitylink.org - Information on local Wicomico, Somerset and Worcester government, non-profit, and community organizations and programs, in a searchable database.

WBOC - News and information from Delmarva's News Leader. Find out just what the heck's going on around there, anyway.

Chesapeake Bay Maritime Museum - Where stories of the Bay and its people come alive! Fun-filled festivals, engaging special exhibitions, hands-on boatbuilding classes, and outdoor summer concerts are some of the offerings here.

The DelMarVa Stargazers - This group meets monthly in Smyrna, Delaware, and gathers regularly to gaze at the wondrous heavens (as well as enjoy hot dogs and astronomical cameraderie) at Tuckahoe State Park, in Queen Anne's County about 7 miles west of Denton, Maryland. The Stargazers were formed in 1993 for the purposes of viewing the heavens and promoting a general interest in astronomy.

The Wye Oak - The majestic state tree of Maryland, The Wye Oak, was one BIG tree. Estimates gave its age as over 450 years old, and it was an impressive sight to see before its demise in a fierce storm in 2002. Located in Talbot County in the village of Wye Mills, it was the focal point of Wye Oak State Park.

The Delmarva Shorebirds - Delmarva's own minor-league ball team plays in a beautiful little stadium right in Salisbury, Maryland. And doesn't it just warm your heart to see baseball played the way it was meant to be? For the love of the game, and God Bless America!